OKO Group – Sole manufacturers of original, genuine OKO tyre sealants
OKO invented effective preventative puncture sealants in 1978. This is the home of the only genuine OKO. Accept no substitute.
Continuously developed, The World's Favourite Tyre Sealants are now trusted in over 80 countries.
NEWS:
OKO Magic Milk™ is the fastest-growing Tubeless Bicycle Sealant brand, the Winner in a new independent multi-brand test, and now used by the World Champions! We are adding new National Distributors fast – now we seek ambitious bike supply companies to work with us in GERMANY, FRANCE and SPAIN – could this be you? Contact us – Today…
And for all vehicle sectors, check our Find a Distributor page to see if we have a gap in your country that you can fill!
All puncture sealants are not created equal. Choose OKO.
SEE US AT THESE 2019 EXHIBITIONS:
Thanks to all our visitors at Plantworx 2019, from the UK and many other countries – we look forward to working with you!
Materials Handling Middle East, Dubai (Jaspa), Sep 3-5
Eurobike, Friedrichshafen, Germany (OKO), Sep 4-7, Hall B1-315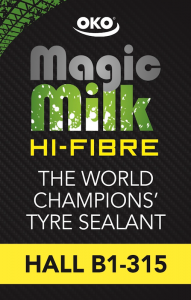 (See the Puncture Control site for other UK caravan/motorhome shows through the rest of the year…)