OKO Magic Milk™ for all tubeless bike tyres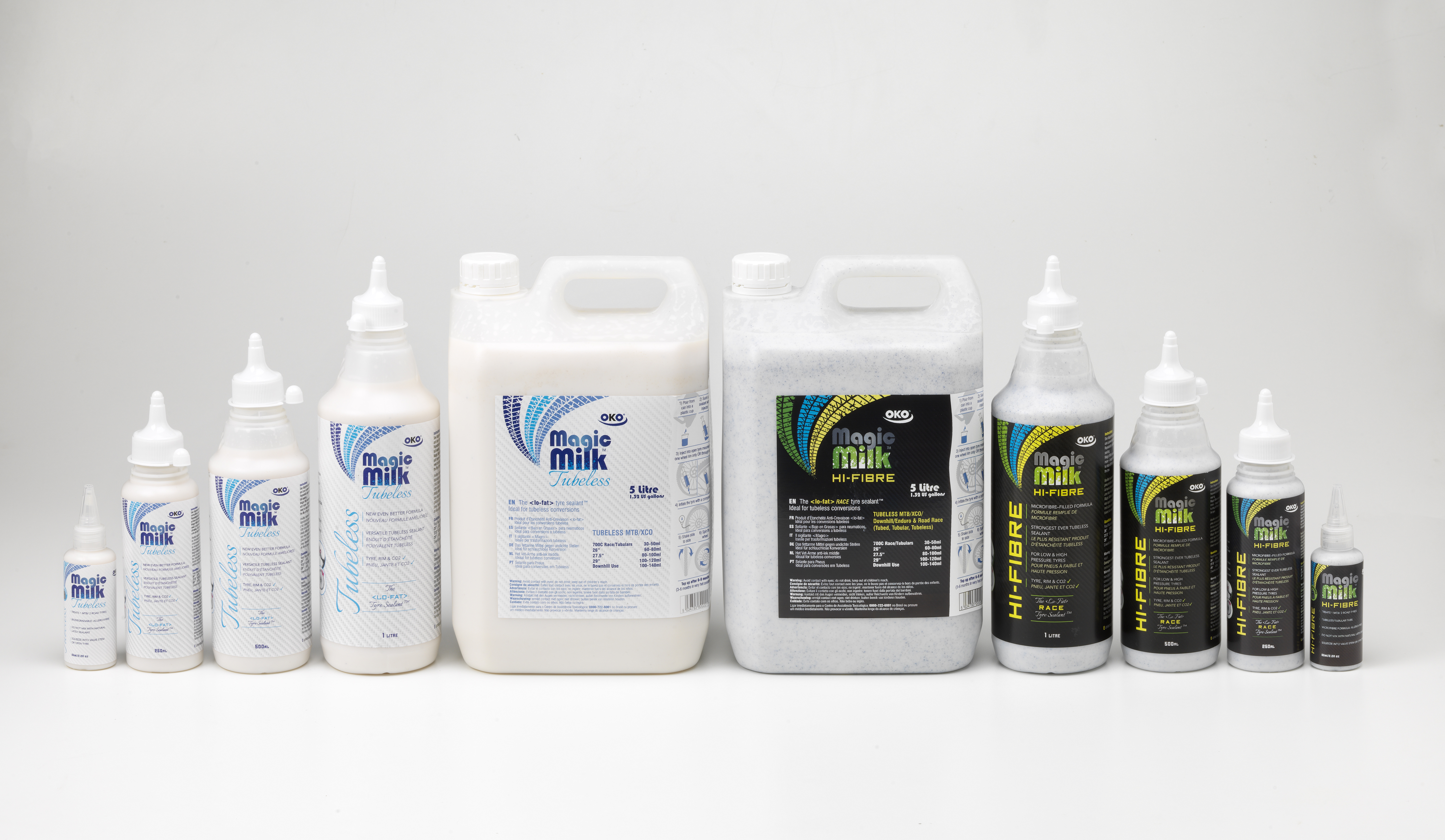 •NEW Formulae and NEW Hi-Fibre race variety!
• 'BackPack Pack' mini-bottle for repairs on the trail
• Seals holes of 6mm (Hi-Fibre up to 7mm)
• Finds the little crevices between bead and rim
• Synthetic latex formula is wheel, tyre and CO2 friendly
• Coats the sidewall like no other
OKO Magic Milk™ Tubeless is a step forward for latex-based free-flowing liquid tyre sealants. It is designed for 'tubeless ready' or full UST tubeless tyres (also usable in tubes: for maximum puncture proofing on UST and MTB tubes we recommend Puncture Free Bike or X-Treme)
The <Lo-Fat>™ tyre sealant, it is super-light, with a dose of 30-120ml per tyre in most road to mountain to downhill bikes, depending on size.
NEW Magic Milk™ Hi-Fibre race sealant is a premium product, designed to deal with both the high pressures of road race bikes (tubeless, tubed or tubular): and also the low pressures of downhill/enduro/gravel racing.
Magic Milk™: the choice of leading World Cup contenders:
Habitat Mountainbike Team are winning races using Magic Milk™ and find it "perfect" – Maarten Kemperman, Team Manager. See the video showing their technician applying the product at a race meeting.
David Rosa, 8-time Portugese MTB Champion, who has made his own Magic Milk video with a dramatic tyre spiking followed by a forest run!
NS Bikes Factory Racing Team, a leading force in Downhill, has also switched from the traditional tubeless brand to Magic Milk Hi-Fibre ("your Milk is awesome!" – Dominic Tinner, Team Manager).
CX SMP Team, UCI Cyclocross and Marathon MTB, have converted to us as well : see their 2018/19 Winter calendar as they race around Europe.
GHOST Factory Racing, a works team of all-female National Champions from around Europe in UCI MTB/XC, is a new addition from 2019, using Magic Milk Hi-Fibre in their Maxxis tyres.
And the legendary Bart Brentjens has switched his hugely successful  CST Sandd American Eagle MTB Racing Team to us from 2019, saying after testing, "I'm convinced about your sealant quality"…
Watch out for exciting news about our new Road Race team tie-up for 2019…
Both Magic Milk™ Tubeless and Magic Milk™ Hi-Fibre are available in the full range of sizes:
65ml bottle for emergencies – carry one or two in your backpack with a CO2 inflator to get you out of trail trouble
250 ml bottle deals with one MTB or two Road bikes
500ml bottle is over 5% bigger than the US 8 fl oz brands – better value
1 Litre bottle is great value and over 5% bigger than the 1 Pint brands
5 Litre Can is perfect for race teams and service workshops: 33% more than 1 US gallon and no inaccurate/wasteful plastic pumps: you get an OKO Injector with each can for precise, clean dosage
Simple bottle/valve stem fitting, using the new resealable tapered cap: screw it over a removable-core Presta valve stem or fit inside a Schrader stem. Or squeeze into the partially-mounted tyre.
Benefits
• Latex-based for sealing wheel/tyre bead imperfections
• Stickiest product there is: seals the sidewall porosity
• Longer effective life than competitors – usually 6+ months before you top up in mild climates: will not ball up inside the tyre, dries as an even layer. Can be topped up so you don't need to strip off the tyre.
• Advanced synthetic latex formula – will not rot tyres or damage wheels and is safe for the many latex allergy sufferers
• Contains corrosion inhibitors and does NOT give off ammonia
• Washes off with water
• Non Hazardous
Characteristics
Non Corrosive: Non Flammable: Non Hazardous (not excluded from air shipments unlike some ammonia-containing products). Washes out of the tyre if required.
NO ADVERSE AFFECT UPON TYRES OR RIMS (contains anti-corrosion agents).
WORKS WITH TUBELESS READY and FULL UST TUBELESS WHEELS/TYRES, with Schrader or removable-type Presta valves. (if you have non-removable Presta valve cores, pour Magic Milk™ into tyre well then mount tyre onto rim).
For 'tubeless ready' tyres on standard rims, always use a rim strip plus OKO Magic Milk™. Shake the tyre/wheel combination vigorously from side to side at each point to force the sealant into the little gaps between bead and rim, and into the tiny holes in the porous tubeless ready tyre sidewalls. Also spin the tyre on the wheel for a prolonged period. Follow tyre and wheel manufacturer instructions.
(For tyres with inner tubes, use OKO Puncture Free Bike or OKO X-Treme)
Colour: White. Free-flowing. Low Odour (no nasty ammonia smell).
QUANTITY REQUIRED per tyre:
• Road Racing: 30-50ml
• 26" MTB: 60-80ml
• 27.5″ MTB/XC: 80-100ml
• 29″ MTB: 100-120ml
• Downhill use: 100-140ml
For maximum accuracy, for easier use with removable-core Presta valves, and for a host of workshop uses, use one of the OKO Tyre Sealant Injectors.
OKO sealant Tariff Number: HS. 3824. 90. 96
OKO injector Tariff Number: HS. 8413. 20. 90
No risk and safety labels or warnings are required since this product is not classified as hazardous under current regulations. Normal safety precautions should be taken: wear gloves and protect eyes. Rinse product off any clothes that it may be spilled upon. Keep away from children. If swallowed, see a doctor.
Send us an enquiry about this product
Your message was sent!
Complete all the fields